One of the unique components of Northern Pines is our Child Care Assistant program. CCAs enable our Adult conferees to enjoy their time in the Adult program, allowing them to fully engage with their spouse and fellow conferees knowing their children are in the loving arms of qualified CCAs.
CCAs help with the Children's Program in the morning, receive quality, Christ-centered programming and small group time that is relevant and applicable to them, and are assigned to an individual family for the week and provide quality, FREE childcare for that family until 11 pm each night.
CCAs pay a minimal fee which covers room and board, but their morning and evening services are included at no extra cost for families attending our conferences.
Morning

Helping Children's Program teachers or Bibile study and worship

Afternoon Free Time

Hang out at beach, biking, hiking, etc. Optionally babysit for families.

Evening

Meet with assigned family for the night, play and care for kids.

Night

Put kids to bed and stay on site until parents return
CCAs come to serve, but have a lot of fun doing so.
Each morning, the CCAs divide into 2 groups and switch halfway through the morning's activities. Each CCA spends half of the morning helping the teachers of the Children's Program with their assigned class. Being involved with the same class throughout the week allows each CCA to establish relationships with the kids.
The other half of the morning is spent in Bible study and worship within the CCA program. The CCA program directors prepare an engaging and relevant theme each year and the students are challenged in their relationship with God and with others.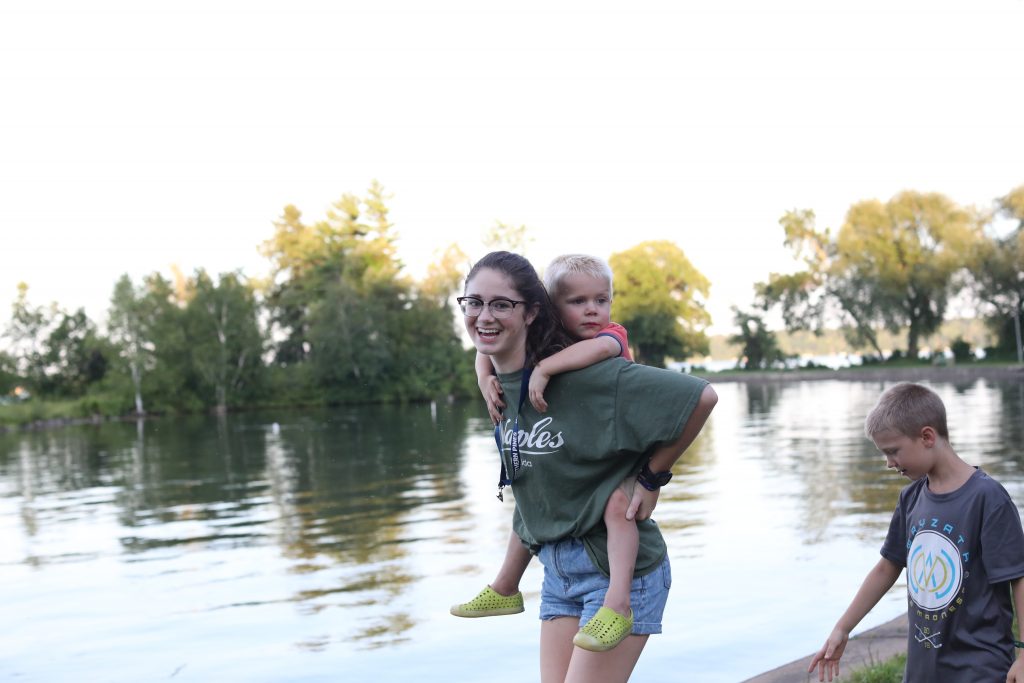 During the afternoon, CCAs are free to enjoy the Green Lake campus in a variety of ways. They can hang out at the beachfront, grab a snack, or even borrow a bike and explore the campus with some friends. CCAs are also given the opportunity to babysit each afternoon for families looking for some time away. CCAs are compensated for these afternoon babysitting jobs.
Following dinner, CCAs head out to meet with their assigned family for the night. Throughout the week, each CCA cares for the children of the same family so relationships are established and the children are comfortable with their new friend. During the evening, they spend time playing with the kids, swinging at the park, going for a walk, reading stories, or playing games with others nearby. They can then put the children to bed as the parents desire and will stay on site until parents return.
Interested in staying at Northern Pines for 2 weeks?
Many of our CCAs spend one week as campers in their respective programs and then the opposite week serving as a CCA. It's a great way to have fun with friends and experience Northern Pines for an additional week! Students staying for a second week stay together on campus between weeks. There is staff specific to those staying in between weeks to help oversee their activities and help them get laundry done, etc. The weekend is really low key as most kids sleep for much of the time. They also enjoy relaxing by the beach and spending time with friends. There is an all staff Sunday morning service and meals available throughout the weekend.
Those choosing to stay for the 2nd week will receive $50 off registration fees! Also, First and Second time CCAs go for free.
Interested in staying for 2 weeks, but unsure how you'll get to/from Northern Pines?
For those joining us from the Twin Cities area, we have buses that will transport students at the beginning and end of the Conferences.
Please Contact Us for additional information on the weekend overnight and the bus services from the Twin Cities.
We are proud of the work that past CCAs have served to assist our families while enjoying a meaningful camp experience.